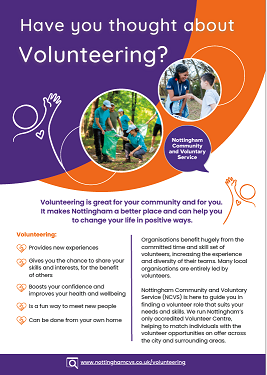 Have you thought about volunteering?
Volunteering is great for your community and makes Nottingham a better place.
We can help guide your search for a suitable volunteer role. The Volunteer Centre at NCVS is part of a network of accredited Volunteer Centres across England, so you can be sure we're providing quality information.
People volunteer for many different reasons. It's good to have an idea of what motivates you, the skills you can offer and/or hope to develop, and the types of activities you are most interested in. There are hundreds of volunteer roles on our database, so giving this some thought before you begin your search will definitely give you a head start. A successful volunteering experience is rewarding both for you and for the organisation you're supporting.
Read more about the benefits of volunteering >>
This website provides a self-serve facility. Anyone can search our public listing of volunteer opportunities. You may prefer to speak with someone first, or be supported in your search. See how to get in touch with an advisor below.
 
Search online for volunteer opportunities
Only opportunities that have been carefully checked and approved by NCVS appear on our database. Search now
As a prospective volunteer, you can search by any combination of these filters:
Type of volunteer role / activity which matches your skills and interests, e.g. administration, marketing, supporting people
Organisation type you wish to support, e.g. mental health, children and young people
Time of day / week the role is required so you can fit volunteering around your other commitments
City electoral ward location of the volunteer opportunity to find roles closest to you
 
By registering for a Volunteer Account, you can browse a full range of local volunteer opportunities and express interest in a role to the organisation(s) concerned, directly through our website. You can then login at any time to update, review and follow up your volunteering enquiries/interests.
Get in touch with a Volunteer Centre advisor
Call us on 0115 934 8400. You will usually have to leave a message with the person who answers, or the answerphone out of office hours, and someone will get back to you.
 
Email volunteercentre@nottinghamcvs.co.uk at any time and we'll respond as soon as we can.
If registering for an online account isn't for you, you can still begin your search now to get an idea of the opportunities available. Then phone or email us to discuss your interests further and get support in applying for a volunteer role. If something catches your eye, make a note of the role(s) you're interested in and we'll help you take the next step.
Drop in to a Volunteer Local session in your local community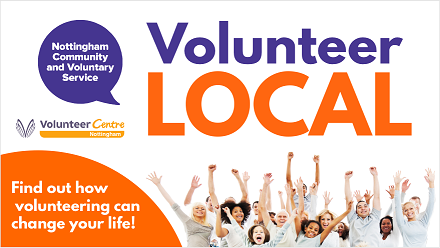 Important update 30 March 2023
NCVS has been running drop-in sessions for potential volunteers and groups in selected community venues for well over a year. We've now decided to put our regular weekly sessions on pause while we evaluate how we can best use our limited staff and volunteer resources to support community groups, potential volunteers and other stakeholders.
This means that our sessions at Bulwell Riverside and The Chase Centre in St Ann's will not take place for the time being. Please keep an eye on this page for news of the evaluation and our plans for the future.
If you have immediate questions around this development, please contact Dave Thomas, our Volunteering Development Officer at davet@nottinghamcvs.co.uk or call 07564 040767.
The idea of Volunteer Local is to place volunteering at the heart of local communities. By taking our team and our wealth of information about how we can support volunteers and voluntary / community groups into the heart of local communities, we want to encourage many more people to take up volunteering and help groups get the support they need to run, grow and develop.
 
If you have a support worker or are a support worker looking for volunteer opportunities on behalf of clients
Please don't register yourself on the website using a support worker's email address or (if you are the support worker) using your own work email address. Instead, please call us for guidance, or email volunteercentre@nottinghamcvs.co.uk.
See further background in our article, Volunteering by people with support workers.
 
The Volunteer Centre at NCVS is part of a network of accredited Volunteer Centres across England.