Helping social entrepreneurs & enterprises to thrive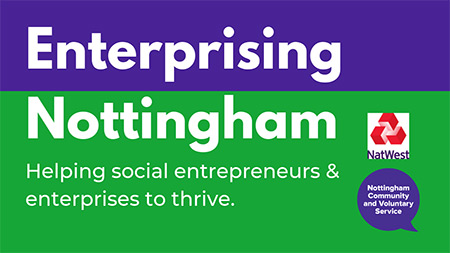 Our recent 'Enterprising Nottingham' project ran for 15 months from April 2019, providing training and one-to-one support to new and existing social enterprises (less than 12 months old) in Nottingham. This project was funded through the NatWest Skills and Opportunities Fund.
We no longer have a dedicated Enterprise Development Officer. However, we are continuing to offer support to social enterprise organisations in Nottingham through our other service areas, wherever possible.
If you would like to find out what support is currently available, you may find some of our training courses and networks of value. Some useful links to other websites and external resources are listed at the bottom of this page.
If you have a specific request, please complete our Request Support Form. Alternatively, you can contact us to find out more.
Email: ncvs@nottinghamcvs.co.uk
Telephone: 0115 934 8400
Social Enterprise introductory workshops
We delivered two sets of Social Enterprise introductory workshops (6 sessions per series) in 2019, covering understanding what a social enterprise is, legal structures and governance, business planning, marketing, finance, and building ongoing support and awareness.
We ran a similar programme in 2020, alongside one-to-one advice sessions for budding social enterprises (one year or less). This programme has now ended.
Keep an eye on our Training Courses page for future course details.
Accredited training
Delivery included a Level 3 Certificate in Tender Readiness for VCSE Organisations programme, accredited by SFEDI.
Other useful resources
These links take you to pages outside of the NCVS website. We believe that these can be helpful resources, but please note that NCVS cannot be held responsible for content or guidance contained in external sites.
 
Local / Regional Support
Nottingham Business & IP Centre
Nottingham City Libraries is part of the Business & IP Centres National Network, and you can access lots of webinars and online workshops to inspire you and help you up-skill your business.
D2N2 Growth Hub
Latest news on the support available to local businesses.
National Resources
Community Interest Company (CIC) online incorporation
A useful tool from Companies House taking you through the stages involved in the incorporation of a Community Interest Company (CIC).
Social Enterprise UK
The national membership body for social enterprises and their supporters.
School for Social Entrepreneurs (SSE)
Runs courses that equip people to start, scale and strengthen organisations that make a positive difference.
UnLtd
Finds, funds and supports social entrepreneurs.
Good Finance
Helps charities and social enterprises navigate the world of social investment.