Helping social entrepreneurs & enterprises to thrive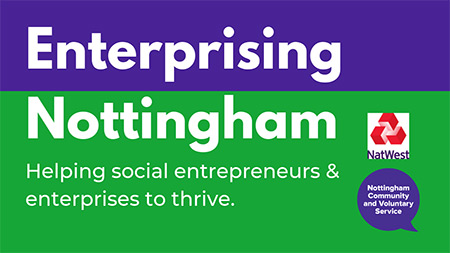 Our 'Enterprising Nottingham' project provides training and one-to-one support to new and existing social enterprises (less than 12 months old) in Nottingham. The 15 month project, launched in April 2019, is funded through the NatWest Skills and Opportunities Fund.
The programme is managed by our Enterprise Development Officer, Chris Hill, who has over 17 years experience in supporting social enterprises. Accredited training is also available through the project.
For more information, contact Enterprise Development Officer Chris Hill
Email: chrish@nottinghamcvs.co.uk
Telephone: 0115 934 8429
Social Enterprise introductory workshops
We delivered two sets of Social Enterprise introductory workshops (6 sessions per series) in 2019, covering understanding what a social enterprise is, legal structures and governance, business planning, marketing, finance, and building ongoing support and awareness.
We have been running a similar programme so far in 2020. There are no future course dates scheduled at this time. However, Chris is offering one-to-one advice sessions for budding social enterprises (one year or less). 
If you would like more details of the types of issues covered in our introductory workshops, or you would benefit from a one-to-one advice session, please contact Chris (as above).
Keep an eye on our Training Courses page for details.
Accredited training
To date we have delivered a Level 3 Certificate in Tender Readiness for VCSE Organisations programme, accredited by SFEDI. This may be repeated in future.
Additional workshops are planned. For more information, please contact Chris (as above).