** Special notice ** Location and opening times
The NCVS building can be found in Nottingham city centre at 7 Mansfield Road, Nottingham NG1 3FB, just opposite the House of Fraser department store.
The current situation, however, is that the NCVS building remains closed to the public for NCVS activities. Scheduled events are being delivered online, where appropriate. A few NCVS staff are in the building, while most of our team continue to deliver our services remotely.
Special arrangements would need to be made and agreed with a member of staff before visiting the building. The best time to make contact for general enquiries is Monday to Thursday from 9am to 4pm. An answerphone is available for out of hours messages to be left. Or email us at any time.
You can continue to contact us on 0115 934 8400, by email to ncvs@nottinghamcvs.co.uk, or through our social media channels. We also issue regular e-bulletins with important updates for the voluntary and community sector. Sign up now.
If you wish to visit one of our tenant organisations, please check appropriate access times with the organisation directly. View tenant details.
Our Volunteer Centre services are operating online and remotely. There are no scheduled drop-in sessions currently. Please see our Want to volunteer page for more details of how you can search online for volunteering opportunities, or contact an advisor.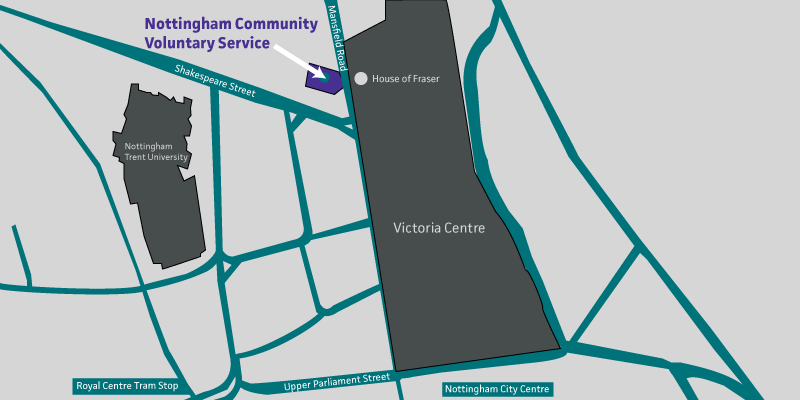 View our location on Google Maps.
 
Local travel information
Buses: Nottingham City Transport and Trent Barton
Trams: www.thetram.net - the nearest tram stops to NCVS are Royal Centre and Nottingham Trent University (both approximately 5 minutes walk). Please note you will need to buy a relevant ticket from the machines available at each tram stop (or have a valid travel card) before you board.
Car parking: the nearest car parks to NCVS are at intu Victoria Centre and Trinity Square. Find information about other NCP car parks and Nottingham City Council parking options. See convenient Park and Ride options (park outside of the city and travel in by bus or tram).
Trains: it takes approximately 15 minutes to walk from Nottingham train station to NCVS. Tram links are available without leaving the station.
For public transport journey planning and timetables in and around the East Midlands, you can also visit Traveline.
 
How to contact our tenant organisations
The NCVS building provides an office base for other voluntary and community sector organisations:
Improving Lives 0115 934 8411
LAM Action 07710 527636
Nottingham Photographers' Hub 0115 947 0364
Small Steps Big Changes 0115 883 6741
YMCA Nottinghamshire 0115 837 1871