Wednesday 17 June 2015
This blog was written by Farhaan, one of our Heritage Volunteers
It was a much more relaxed week for us at the project and that was perhaps needed after the high workload of last week.
We began by splitting the group into three, and then reflected on different aspects of the project so far.
The first group looked into the skills we have gained since joining the project, and decided to present them by attaching numerous speech bubble-shaped post-it notes on a large piece of paper. My group looked at the information or knowledge acquired since joining the project, and we chose to present that via a mind map. Finally, the third group looked into what we felt we had achieved, and this was uniquely presented through drawings of stick men and other items.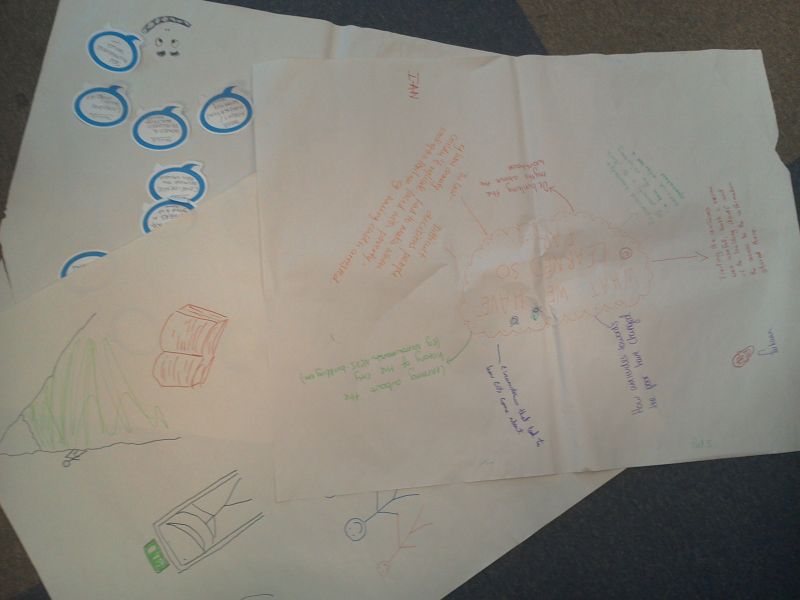 After that, it was time to get comfortable, grab some snacks and dim the lights - it was time for a film! We watched the Cumbria Council for Voluntary Service film, which covered the 100 years of the Service.
The production quality of the film was impressive, with a sort-of 'ghost of Christmas past' narrator, taking us through time, showing us the achievements and landmarks of the service.
There were some interesting scenes, from World War 2 battle pieces to ballet performers. We got a lot from the film for when we come to making our own film, which I'm looking forward to!
Happy 140 years, NCVS!
You can watch the Cumbria CVS video here.