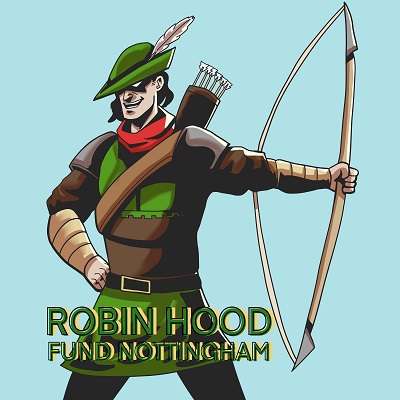 Tackling food and energy poverty this winter
Nottingham CVS is pleased to announce our partnership with the Nottingham Post and the Nottingham Project to re-launch The Robin Hood Fund. This aims to tackle food and energy poverty this winter (2022-2023).
You may recall the Fund from the early days of the pandemic, which raised over £100,000 to shore up food banks and other local provision during uncertain times.
In just under two weeks from the re-launch of the Fund, nearly £4,000 had been raised on the GoFundMe platform. Donations continue to come in, including a very generous donation from a local author.
All funds will be held by and administered by NCVS as a registered charity.
 
Who the Fund supports
The first phase of the campaign will distribute funds to our local Advice Centres and Food Banks. This will ensure that local people in need have access to supplies to see them through the current cost of living crisis.
Money raised through The Robin Hood Fund will go to Hope Nottingham, the city's largest food bank, which will ensure that the food bank network receives the extra support to respond to increased needs, while the Citizens' Advice Centres in and across Nottingham will distribute supermarket and energy vouchers to eligible individuals.
In the week before Christmas 2022 we were able to release £20,000 to provide direct support to Nottingham residents and families. The first £10,000 was distributed to the foodbank network through Hope Nottingham. The next £10,000 was distributed to the Advice Centres to purchase supermarket vouchers for clients, through the St Ann's Advice Centre.
The second phase of the Fund is to open up a small grants programme for local community groups experiencing rising energy costs. In the early weeks of 2023, we are appealing for more donations to the Fund, to make this second phase possible and to ensure we can provide effective support. We will be developing further guidance and information about the small grants programme in the coming weeks. Check back on this page for details.
How to make a donation to the Fund
Every penny will help. 100% of the money received from the GoFundMe platform into the charity account will go to support the chosen causes.
Make a donation on the GoFundMe page
Additional information
Nottingham Post articles:
Launch of The Robin Hood Fund (20 November 2022)
Read an interview with Jules Sebelin, Chief Executive Officer of NCVS (27 November 2022)
Nottingham Forest book by Simon Bristow is raising thousands for good causes, including The Robin Hood Fund (5 December 2022)
Read an article about St Ann's Advice Centre, one of the local advice centres to benefit from the Fund (12 December 2022)

If you would like to know more about the campaign or how you can get involved in raising funds please get in touch with Jules Sebelin, Chief Executive Officer of NCVS. Email juless@nottinghamcvs.co.uk.